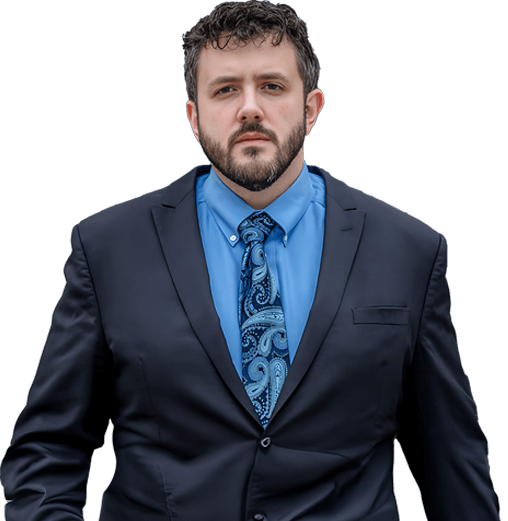 Frank Santini, Esq.
7269 Bucks Ford Dr.
Riverview, FL 33578
Founding partner Frank Santini, Esq. graduated first in his law school's class of full-time students (second overall), summa cum laude, at Stetson University. Prior to founding The Frank Santini Law Firm, Frank was a Practice Group Leader at a nationally-recognized Tampa, Florida law firm, where he learned from and conducted trials with and against some of the best attorneys in the country. Licensed to practice law in the state and federal courts of Florida and New Jersey, as well as the 3rd Circuit Court of Appeals in Philadelphia, Frank has represented a significant variety of clients from personal injury plaintiffs to large, multinational corporations, banks, and insurance companies. Attorney Santini has earned recognition from Super Lawyers magazine as a "Rising Star." Attorney Santini has also been awarded the highest possible rating bestowed upon attorneys by the esteemed Martindale-Hubbell publication. Among his many litigation accomplishments, Frank:
Successfully defended a lender at Arbitration and obtained an award for costs in a $2.5 million dollar action by an account holder regarding purported unauthorized instruments.
Represented a minor in obtaining a six-figure plus settlement against an after-school program following a playground fall.
Represented lender in obtaining deficiency judgment in excess of $1 million dollars against a guarantor.
Represented a national chain of fitness centers in obtaining favorable settlement against a personal training conglomerate.
Secured a reversal by the Third Circuit Court of Appeals in Philadelphia in civil rights excessive force action against police agency. This appellate victory was memorialized in a published opinion that has been cited over 130 times by other
In addition to his experience as a personal injury attorney, Attorney Santini has been invited to speak at such prestigious institutions as the Architect of the Capitol, Financial Executives International, the National Apartment Association, the Florida Institute of Certified Public Accountants, among many others. Attorney Santini has authored articles published by the American Bar Association and Daily Business Review, and has been featured in news publications like the Tampa Bay Business Journal, Business Observer, and Multi-Housing News.
Attorney Santini credits his success as an attorney to his diverse background and experiences. Frank is a former professional wrestler, having trained under wrestling greats like Ric Flair and Hulk Hogan. In 2013, he became the only attorney in the history of the National Wrestling Alliance to win the NWA Florida Heavyweight Championship. Attorney Santini is also the founder and President of Legends of Wrestling, a nationally-recognized wrestling promotion.
In addition to professional wrestling, Attorney Santini has substantial experience as an actor. He has appeared in principal roles in dozens of independent films, as well as several commercials for Beef 'O' Brady's.
Frank was also a leader in Toastmasters International for several years, earning honors as the Area Champion in Humorous Speeches and was a founding members of Downtown St. Petersburg Toastmasters.
As an undergraduate, Frank was a decorated offensive lineman on the Muhlenberg College football team earning Academic All-American and Unanimous 1st Team All-Conference honors, as well as serving as team captain. Frank was also a Centennial Conference champion in the shot-put, breaking his university's 30-year-old shot-put record.
Frank was raised on a small dairy farm in Phillipsburg, New Jersey. He attended public school and earned full scholarships to both college and law school, living in a small single-wide trailer during his first year in law school to save money. Frank lost his Godfather and uncle to a wrongful death personal injury accident in Phillipsburg, NJ and credits this life-changing experience as what motivated him to switch from representing huge companies to representing individuals who have suffered serious or fatal personal injuries due to the negligence of others or defective or dangerous products.
As innocuous as it may seem, one of attorney Santini's proudest accomplishments was earning the "Friendliest" Award in his high school, Wilson Area High School in Easton, Pennsylvania. This is a source of pride for Attorney Santini and his staff because he has always taken the time to know and understand people. Now 20 years later, Attorney Santini does the same with his clients and colleagues. Attorney Santini has also built a network of attorneys across the country he knows and trusts to co-counsel with him on his cases, if he feels your case needs special attention from multiple attorneys. If you've suffered a serious personal injury or your loved one has lost his or her life in a wrongful death accident, Attorney Santini can help. At The Frank Santini Law Firm we offer free consultations on car accidents, Roundup lawsuits, Florida Zantac lawsuits, baby powder cancer, slip and falls, truck accidents, motorcycle accidents, DUI car accidents, and many types of Catastrophic injury Cases.
Contact Us To
Schedule A Consultation
To learn more about the services offered by The Frank Santini Law Firm
call our firm or Send us an email.
We have offices in Riverview and Tampa.