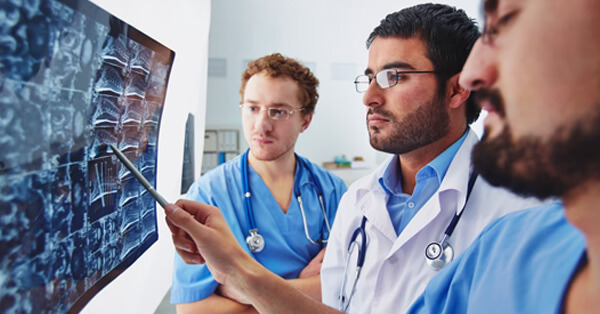 Hillsborough County Medical Malpractice Attorney
Our Tampa hospitals are filled with competent and talented medical professionals who are dedicated to making a difference. Sometimes, however, innocent people lose their lives or suffer a devastating injury and/or disability because of a medical professional's negligence, and if you or a loved one has experienced a life-altering incident of medical malpractice, our Hillsborough County medical malpractice lawyer is here to fight for the justice you deserve. Contact The Frank Santini Law Firm today to schedule your initial consultation with our firm.
Hillsborough County Medical Malpractice Lawyer | Fighting For Your Rights
When injured by a medical professional, you must retain the services of a Tampa personal injury lawyer who has significant experience handling medical malpractice claims. Our firm handles the gamut of medical malpractice claims, and we have for over a decade. If you've been wronged by a medical professional, you know where to turn.
Birth Injuries
A mother giving birth to her child is one of the most special moments in life. That being said, when a mother goes into labor, all we can do is hope that everything goes according to plan and that the medical professional presiding over the birth has the education and skill needed to successfully oversee the event. Fortunately, this is generally the case, however, the unfortunate reality is that sometimes, medical professionals will make careless mistakes and permanently harm the baby as a result. This is unforgivable, which is why our Hillsborough County medical malpractice lawyer is here to hold those doctors accountable.
Cerebral Palsy
One of the most common types of birth injuries associated with medical negligence is cerebral palsy. Essentially, cerebral palsy is a group of chronic movement/posture disorders due to the brain's inability to control the body. Though in many cases, symptoms of cerebral palsy are evident at birth, there are times when these symptoms do not become apparent for up to a year. Cerebral palsy, not unlike many other medical conditions, has degrees, and some people have more severe symptoms than others. Some of the most common symptoms of cerebral palsy include speech impairment, loss of balance, mental impairment, fine motor task difficulties, and more. While not all cases of cerebral palsy are the result of medical negligence or malpractice, many cases are. For example, if your doctor failed to identify or treat certain infections, or the medical professional failed to detect the fact that your baby was in fetal distress and, therefore, failed to perform a cesarean secession, you may have a valid medical malpractice claim. If you believe that your baby now has cerebral palsy as a result of medical malpractice, you should strongly consider speaking with our Hillsborough medical malpractice lawyer today.
Erb's Palsy
Another common birth injury that often occurs due to medical negligence is Erb's palsy. In most cases, Erb's palsy happens as a result of traumatic stretching or tearing of the brachial plexus during birth, and unfortunately, this is usually entirely preventable. The symptoms of Erb's palsy are lasting, and, in many cases, severe. Unfortunately, Erb's palsy can cause paralysis, difficulties with fine motor skills, and more. If your child was born with Erb's palsy and the presiding medical professional failed to perform the proper maneuvers during your child's birth, you will most likely have a valid medical malpractice claim. Our firm is here to help you and your child recover the compensation you deserve.
Additional Medical Malpractice Claims We Handle
Doctors, nurses, dentists, physical therapists, pharmacists, and all other medical professionals can harm patients due to negligence, which is why our firm handles a wide array of medical malpractice claims, including those involving the following:
Failure to diagnose certain diseases
Medication errors
Anesthesia errors
Plastic surgery errors
Delayed diagnoses
ICU malpractice
Hospital negligence
Nurse negligence
Surgical errors
Physician mistakes
Brain damage
Spinal cord damage
Wrong-site surgery
Forcep & vacuum extraction errors
C-section injuries
Neurological injuries
Orthopedic injuries
Failure to diagnose certain cancers, such as ovarian cancer, lung cancer, prostate cancer, testicular cancer, breast cancer, colon cancer, skin cancer, and more
Medical Malpractice Lawyer Helping You Recover Compensation
If you believe that you are a victim of an act of medical malpractice, you and your attorney will have to prove several things. First, you must prove that you were, in fact, the medical professional's patient, and that the medical professional, therefore, owed you a duty of care. You will then have to prove that the medical professional breached that standard of care by making a mistake that a similarly-trained medical professional would not have made, and that your medical professional's negligent actions directly resulted in you sustaining an injury or your condition worsening. Finally, you will have to prove that this act of negligence resulted in significant damages, such as the cost of additional medical bills, pain and suffering, and more.
Statute of Limitations for Medical Malpractice Claims in Florida
While the statute of limitations for most personal injury claims in Florida is, generally, four years, this is oftentimes not the case for medical malpractice claims. In most cases, you will have two years from the date you discovered (or should have discovered) the injury or harm caused by the medical professional to take legal action against that medical professional. That being said, there are some exceptions to this rule. For example, in certain cases where medical issues are not obvious at first, you may have four years from the date of the incident to take legal action. This is known as the statute of repose. Furthermore, you should understand that in extremely rare cases where medical professionals and medical facilities intentionally try to cover up wrongdoing towards their patients, the statute of limitations may be extended even further–up to seven years. That being said, these scenarios are very rare, which is why if you believe that you are a victim of medical malpractice, it is always best to file your claim as soon as possible. If you have been harmed by a doctor's carelessness, do not stand idly by–speak with a seasoned Hillsborough County medical malpractice lawyer as soon as you can.
Contact a Hillsborough County Medical Malpractice Lawyer
Nobody should have to bear the brunt of a medical condition or injury caused by the negligence of a medical professional. All medical malpractice victims in Tampa and throughout the state of Florida should speak with our Hillsborough County medical malpractice lawyer today. The Frank Santini Law Firm is ready to guide you through every step medical malpractice claims process ahead. Contact our firm so we can get started.