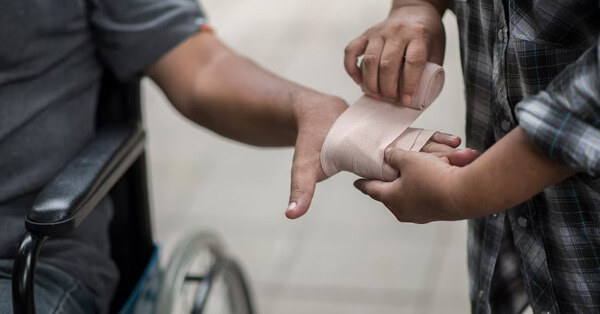 Las lesiones catastróficas son algunas de las lesiones peores. 42 USC § 3796 define la lesión catastrófica como tiene consecuencias directas que permanente previene un individuo de performar trabajo lucrativo. En otras palabras, una lesión catastrófica es una herida que afecta a un individuo por toda la vida. En la mayoría de casos, las lesiones catastróficas incluyen la médula espinal y el cerebro, pero hay otros tipos de lesiones que pueden clasificarse como catastróficos. Si usted o su ser querido sufriera de una lesión catastrófica, The Frank Santini Law Firm está aquí para ayudar. Continua leyendo y contacta a nuestro Hillsborough County abogado de lesiones catastróficas hoy.
Tipos de lesiones catastróficas
Daños cerebrales: Los daños cerebrales son algunos de los tipos de lesiones catastróficas más comunes y pueden ocurrir como resultado de varios tipos de accidentes. Por ejemplo, cuando alguien esté involucrado en un accidente de coche u otro tipo de choque, puedan sufrir un daño cerebral traumático. Esta herida puede impactar su memoria, su habla y su habilidad en funcionar como en el pasado. Los daños cerebrales también pueden ocurrir debido a la falta del oxígeno en el cerebro, específicamente en accidentes que suponen la muerte por sumersión o la intoxicación del monóxido de carbono.
Amputaciones: Lastimosamente, después de ciertos accidentes de trabajo, accidentes de coche y otros tipos de accidentes, las víctimas necesitan amputar sus miembros. Obviamente, las amputaciones pueden tener un efecto dramático en la vida y la habilidad de completar las tareas diarias. Si estuviera herido en un accidente, no por culpa tuya, y tuviera un miembro o más amputados, nuestro Hillsborough County abogado de lesiones catastróficas está listo para luchar en tu nombre.
Lesiones de la médula espinal: Algunas de las lesiones más graves son los resultados de las lesiones de la médula espinal que han causado por la negligencia de otros. Desafortunadamente, las lesiones de la médula espinal frecuentemente causan dolor crónico, parálisis y a veces el homicidio por negligencia. Nuestros abogados en Tampa pueden ayudarlos. Ofrecemos consultas gratis y estamos disponibles en su casa o un cuarto de hospital en Tampa Bay.
Quemaduras: La mayoría de nosotros estamos bastante suertudos y casi nunca nos encontramos en explosiones o fuegos. Sin embargo, no todos están tan suertudos. Si estuviera herido en quemaduras debido a un producto defectuoso, cuando estuviera a trabajo, en un accidente automovilístico o de otra manera, es probable que esté sufriendo de los impactos del accidente como dolor crónico, lesiones nerviosas y más. Nuestra firma quiere luchar por la compensación que merece.
Prescripción
El estatuto de limitación por la reclamación de daños en Florida, generalmente, es cuatro años. Esto significa que no puede esperar más de cuatro años desde la fecha de su accidente para emprender acciones legales contra el camionero o empresa de camiones que han causado sus lesiones. Nuestra firma está lista para ayudarlos hoy.
Contacta a nuestro abogado de accidentes automovilísticos en Hillsborough County
Si estuviera herido con una lesión catastrófica en Florida, es crucial que obtenga los servicios de un abogado de accidentes automovilístico en Hillsborough County tan pronto como sea posible. The Frank Santini Law Firm puede luchar por la compensación que puede contribuir al costo de operaciones, rehabilitación u otros daños. Contacta a nuestra firma para programar su consulta.